Spring into Life with Beautiful Flowers
FLORAL STORIES
Spring into Life with Beautiful Flowers
BLACK FLORAL
Live Life in Colour
MONOMATT
Show off your Original Style
URBAN CREW
Timeless Classiness
MONOCHROME
Show off your Gentler Side
PASTELS
B2DO is a brand which exude style, colour and joie de vivre. Our philosophy is all about supporting your urban on-the-go lifestyle, with our water bottles offering an instant solution for your daily hydration needs. Personalise your bottle to suit your taste and find a design which perfectly matches your personality. Each of our powder coated steel water bottles is both the ultimate style statement and a functional hydration solution, great both for men and women.
High-Grade Materials
Fill your vacuum insulated B2DO bottle with fresh, cold water, piping hot coffee, zesty juice, beautifully brewed tea or an icy cocktail. Every drink will be kept in the perfect condition for your first to last sip. Our bottles are precision engineered to keep drinks cold for 24 hours or hot for 12 hours. They feature high quality copper plating to the inner walls, creating a thermal insulating effect which is around 30% more effective than generic vacuum insulated stainless steel drinks bottle. Our bottles are engineered to be actively resistant to leaks, corrosion, and rust.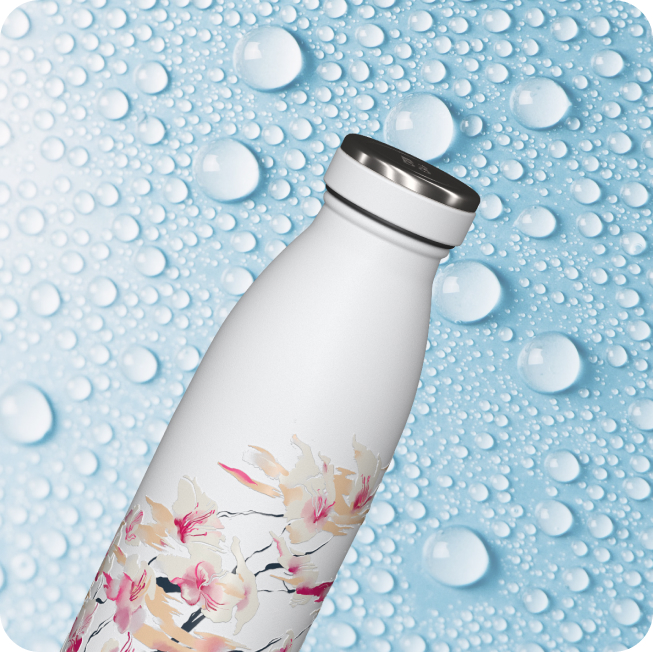 Drinking from our reusable water bottles isn't just convenient, comfortable and simply better, it's the responsible choice. Millions of plastic water bottles are tossed into landfills every year and they break down into dangerous microplastics, polluting the earth and contaminating our oceans. Play your part in the zero-waste movement and replace single use plastic bottles with your reusable metal bottle and enjoy responsible hydration every sip.